Mr. Naeem Rauf
Secretary Energy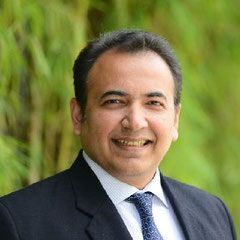 Mr. Naeem Rauf is an ex-officio director in the Board of
PTPL. He is currently serving as Secretary Energy, Government of Punjab. He has
completed his MBBS from Allama Iqbal Medical College. He also holds master's
degrees in public policy from Harvard Kennedy School and Health Policy from
London School of Economics and Political Science.
Being Secretary Energy, his responsibilities include overall
supervision system of governance in power sector in Punjab, establishment of
Thermal, Renewable and Hydro Power Plants, Implementation of Punjab Energy
Efficiency and Conservation Strategy in collaboration with Government of
Pakistan and to improve transmission and dispatch capacity of National Grib.
Prior to this position, he has served at various important assignments
including Secretary Environment, Secretary Local Government, DG Immigration and
Passports and DG Capital Development Authority.